Yesterday had a forecast of strong westerly winds so where else better to play than the east side of the Lizard. A friend of ours is doing his 4 star leader assessment on the weekend and had bought himself a new pair of shiny Werner paddles that he was desperate to use.
We headed over to Porthoustock on the Lizard to try and find some shelter from the westerly wind. From here we then headed south rock hopping around the corner to the Sharks Fin. Whilst we were sorting out a bearing and distance to the Manicals I had remembered that whilst trying to get better reception on the VHF radio I had placed it on the roof of the van. Guess where I managed to leave it?? I then had a mad dash to go and retrieve the radio from the roof and have it with us. Apparently its more useful if you have it with you!!
After this mad dash back to the van we ended up out by the Manicals where the tide was flowing strong and the wind picked up as we were out of the shelter from the cliffs. On our return back heading to Coverack we looked at transits (not vans) to get back to the coast.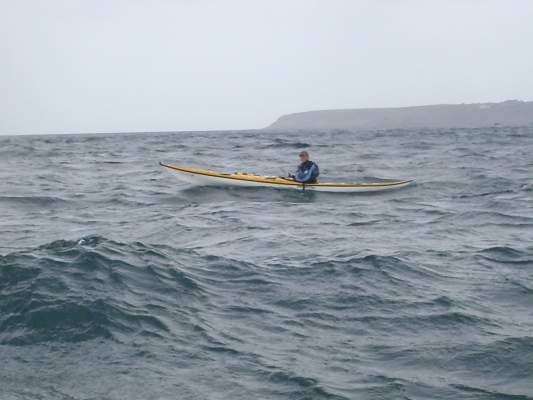 Looking towards Coverack

Once back towards the coast we headed straight into the rocks to go rock hopping again down towards our lunch stop.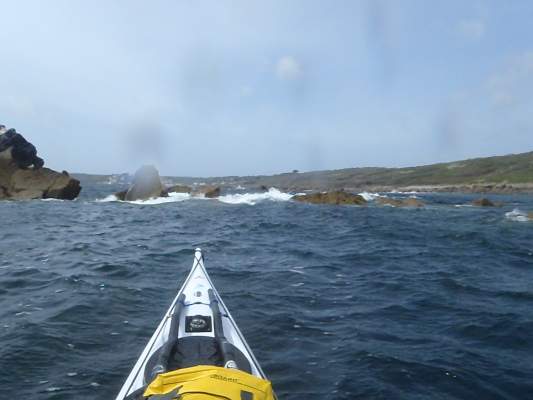 A second earlier this shot would have been amazing!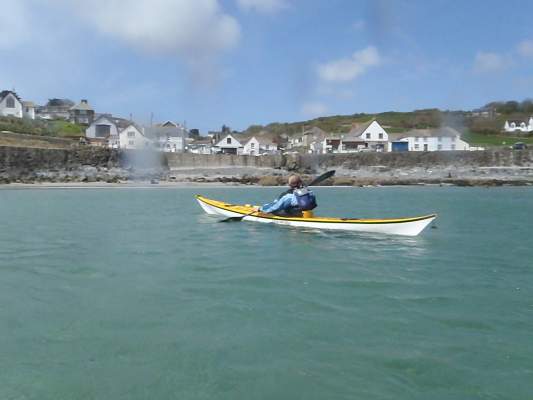 Sunny lunch spot

After lunch we still headed south towards Black Head. Around the corner from Coverack the water was very calm so this was a great time to work on some skills. There were many rocks to go in and out of to show Jake how certain stokes worked and how effective they can be.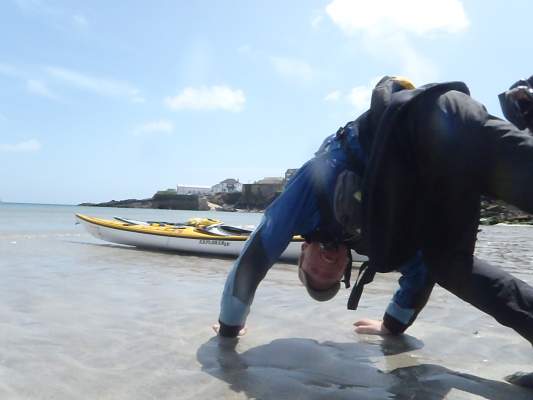 Jakes warm up??

From Black Head back to Porthoustock we had a tail wind with a small swell and managed to surf most of the way back. Once back in the safety of Porthoustock we had a small wet session to show Jake how to self-rescue and to try and stand up on the boats in the wind! An empty upright kayak and move some fast away from you in the wind!!!!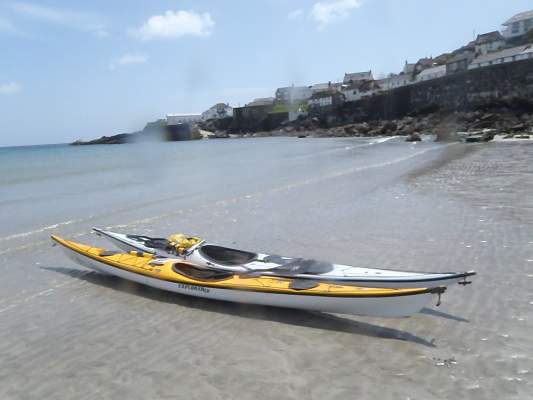 Trying to be artistic!